BridgeAI: Introduction to the AI Standards Hub
This introductory webinar kicks off the AI Standards Hub's involvement in BridgeAI, a new £100m Innovate UK programme to support the adoption and diffusion of AI and machine learning technologies in the UK economy. As part of the programme, activities will be available to the BridgeAI community dedicated to the role of standards in bridging the gap between AI innovation and implementation.
BridgeAI's focus comprises four priority sectors: agriculture, creative industries, construction, and transport. If you are a developer or potential adopter of AI solutions and your work touches on any of these sectors, this webinar is for you. Join us to find out more about BridgeAI and the programme's activity stream on AI standards.
The AI Standard Hub is a partnership between The Alan Turing Institute, the British Standards Institution, and the National Physical Laboratory. The event will provide an introduction to the AI Standards Hub's mission and the importance of standards in advancing AI adoption, including an overview of the Hub's interactive online resources and a snapshot of the current AI standardisation landscape. The agenda will also feature an overview of some initial engagements related to AI standards as well as signposting how to be kept up to date with further announcements being planned related to AI standards as part of the BridgeAI programme. Finally, the session will include interactive components that will give you the opportunity to share your priorities and provide input to shape future activities to match your needs.
To register for a place at the event please complete the registration form.
By completing the registration form, you consent to being contacted with communications related to this event and future events related to this programme of work, including feedback surveys. We are committed to ensuring transparency in our use of personal information, and you can view the AI Standards Hub privacy notice here. In addition, Innovate UK KTN have your permission to process your data in line with their privacy notice. You can view the full notice here.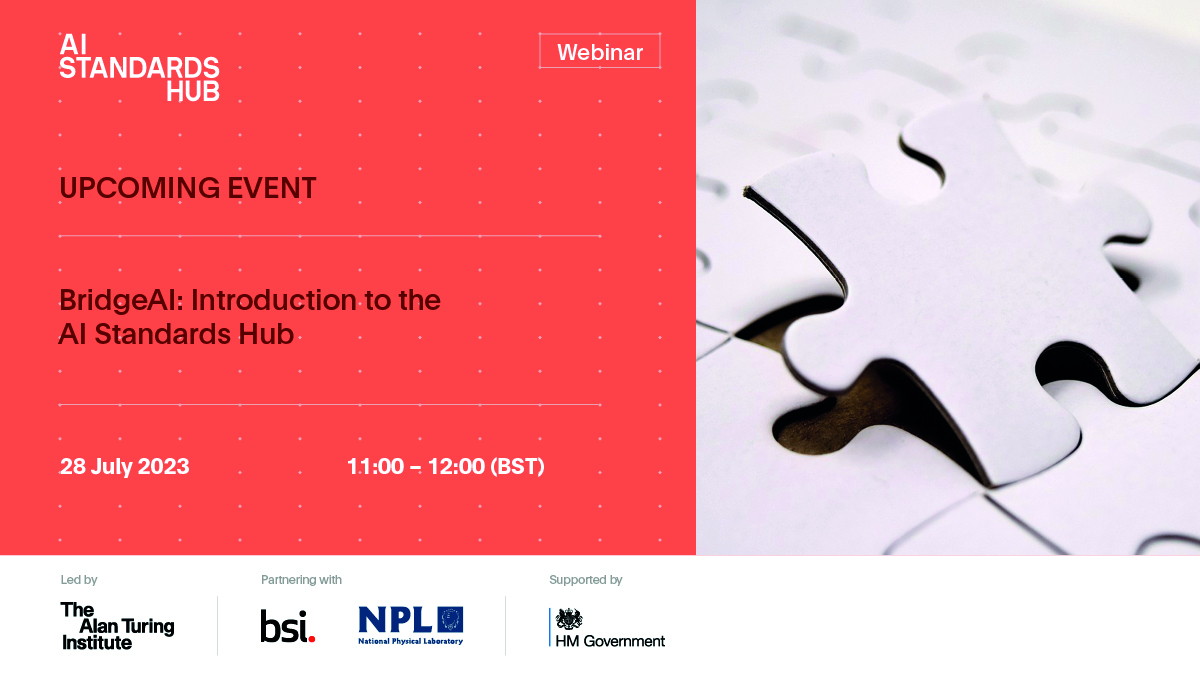 The full recording of the webinar is available here: