The AI Standards Hub website provides our community with a dynamic online platform to engage with all things AI standards. To take full advantage of the opportunities that the platform has to offer, we recommend creating a user account.  
With a user account, you can make use of a wide range of interactive features. Among other things, you will be able to:
Curate website content in a personalised dashboard and receive notifications about content updates
Across our growing databases of standards, policy documents, and research, the user dashboard enables you to manage and keep track of the content that is important to you. Any items that you follow will appear in the 'following' section of your dashboard for easy reference, serving as a personal library of items that you are interested in.
You will also receive notifications for followed items. For example, you will be notified when a standard that you follow becomes open for public comment or moves from the draft stage to the publication stage.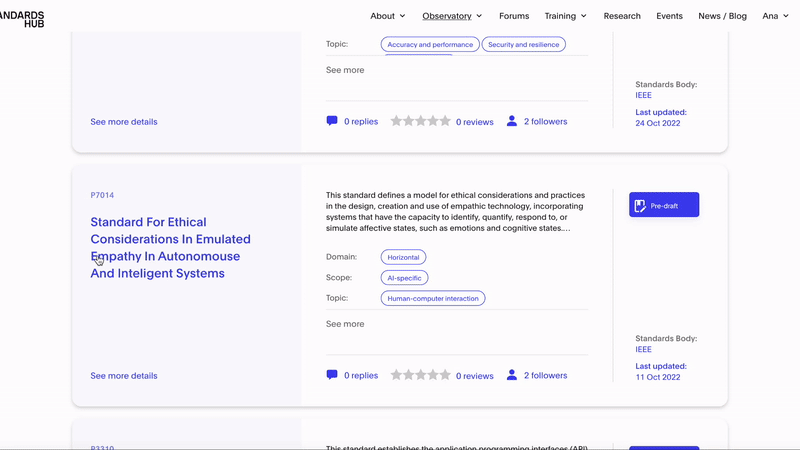 Create a public profile and grow your network
Through your profile, you will be able to publicly indicate your involvement or interest in specific standardisation activities. Using the 'let the community know' feature in the standards database, you can signal that you have contributed to, are interested in contributing to, or have used a given standard, and find others working or interested in similar areas.
You can add other users as 'connections' via your profile page, enabling you to build your network and directly message others with questions or opportunities for collaboration. You can also follow contributions from users you are connected to through the 'activity' section in your user account dashboard.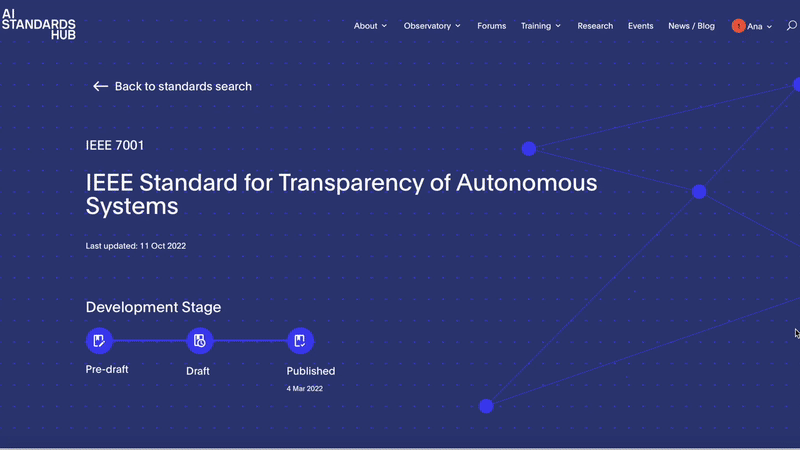 Suggest and discuss AI standardisation topics that interest you
Creating a user account will enable you to share your thoughts on individual standards in our database through the comment and review sections at the bottom of the page for each standard. Our more general forums provide an opportunity to contribute to broader discussions on AI standardisation topics and to suggest new topics to discuss with the community.
If you have suggestions for topics that you would like to see covered in a new discussion thread, we have a dedicated space for sharing them here.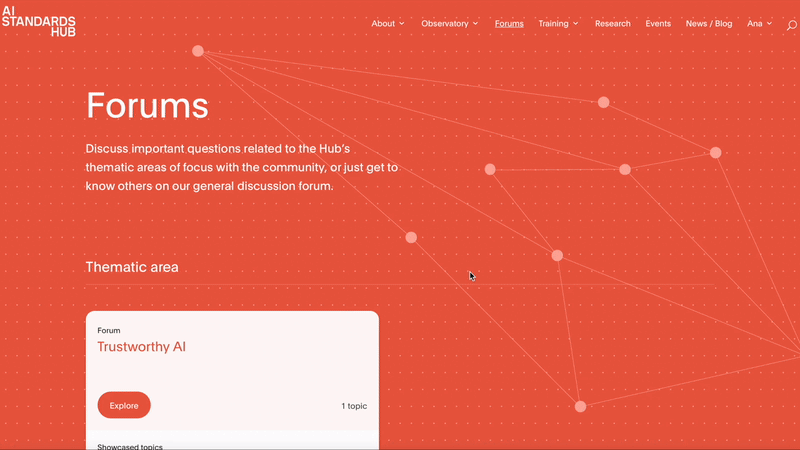 Access the AI Standards Hub's dedicated e-learning platform
AI Standards Hub users will have access to specialised training content produced by the AI Standards Hub's partner organisations, hosted on the Hub's dedicated e-learning platform.
From BSI's "Introduction to standards" and NPL's "Machine learning for metrology", to the "Introduction to AI assurance" developed by The Alan Turing Institute and the Centre for Data Ethics and Innovation, the Hub's e-learning platform offers a growing range of educational content to help you develop the knowledge and skills needed to effectively engage in the field of AI standardisation.